I am writing this post for those people who have lost their passwords and want to recover them. You can recover your password with a nifty tool

MessenPass

It is a password recovery tool that reveals the passwords of the following instant messenger applications:


MSN Messenger

Windows Messenger (In Windows XP)

Windows Live Messenger (In Windows XP And Vista)

Yahoo Messenger (Versions 5.x and 6.x)

Google Talk

ICQ Lite 4.x/5.x/2003

AOL Instant Messenger v4.6 or below, AIM 6.x, and AIM Pro.

Trillian

Trillian Astra

Miranda

GAIM/Pidgin

MySpace IM

PaltalkScene

Digsby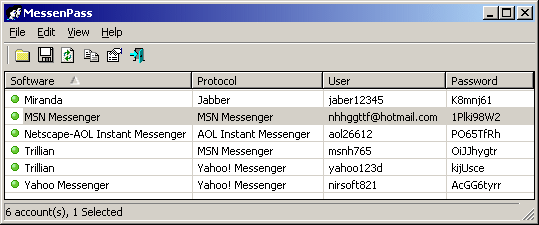 MessenPass can only be used to recover the passwords for the current logged-on user on your local computer, and it only works if you chose the remember your password in one of the above programs. You cannot use this utility for grabbing the passwords of other users. So all those GEEKS who were thinking that it is a Cracking tool I am sorry for broking your heart, but Hey! you can use it as don't you?
You can also use
MessenPass
in Command Line mode without displaying any user interface.
Hope it would help you out, if you have any problem leave a comment.
Disclaimer:
This information is provided by the author as it is from the application source. The author will not be liable for any special, incidental, consequential or indirect damages due to loss of data or any other reason.